19 Dec 2022
I have been a subscriber of this newsletter for a while:
Workspaces - Explore the workspaces of creative individuals,sent directly to your inbox every Saturday and Sunday.
workspaces.xyz
It's showcasing home offices from around the world. A perfect "home office geek" inspiration.
Here is my submission.
Intro
Nic is now freelancing in B2B Sales, helping US B2B SaaS companies expand their business in Europe: https://BtoBSales.EU
He was previously VP Sales & MD EMEA (2x) of VC-backed US & Australian SaaS startups which IPO'ed, and bootstrapped 2x startups which were acquired.
Based in Germany now, after 10 years in London - originally from France.
I started upgrading my home office in 2019, following the sale of my 1st startup - the pandemic accelerated the process.
My home office prioritises function over form, so it does not look as good as most of the setups showcased on Workspaces.xyz.
While my setup might be seen as an overkill by most, the investment is more than worth it, for me.
Keeping in mind my computer use is wider than most:
Business
Sales & online Sales Demos
Programming (Python) / 100+ scripts, now getting into AI/ML
Database Management
Graphic Design (eg Sales graphics)
Video Editing (eg Sales videos)
Hi-Fi (always-on lossless playback)
and more (eg testing 3D design tools, etc..)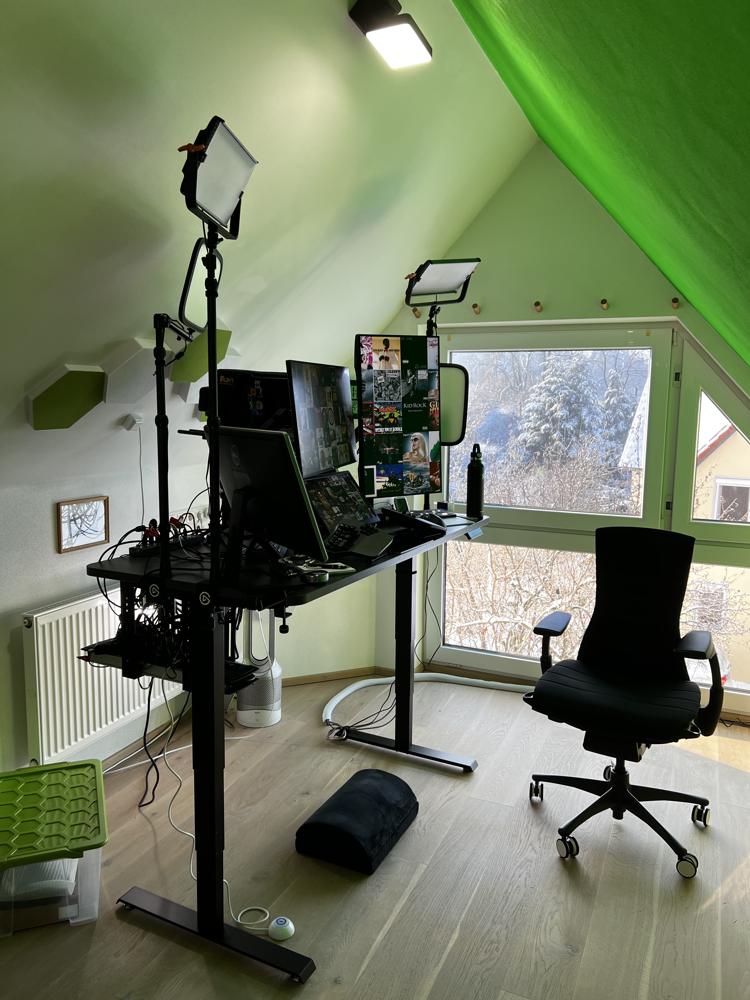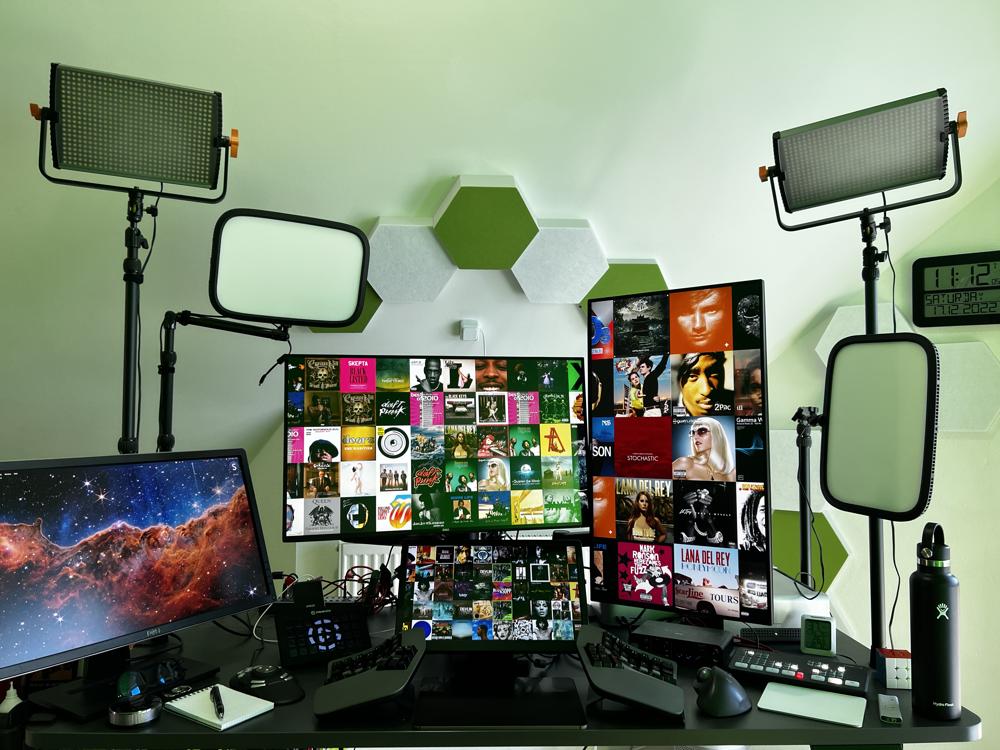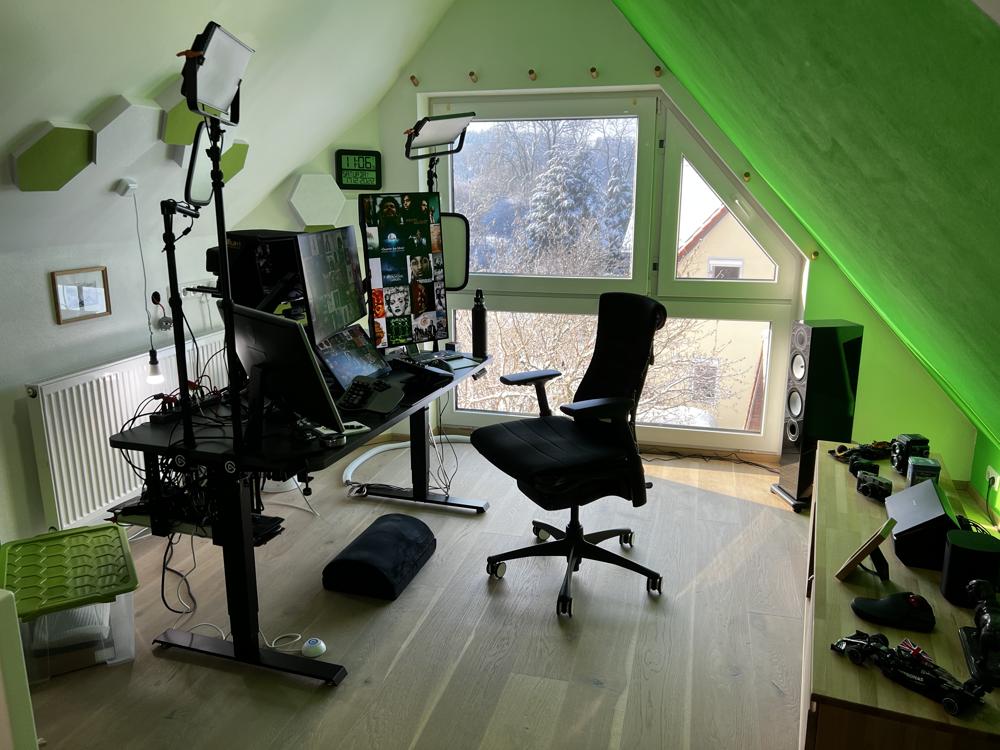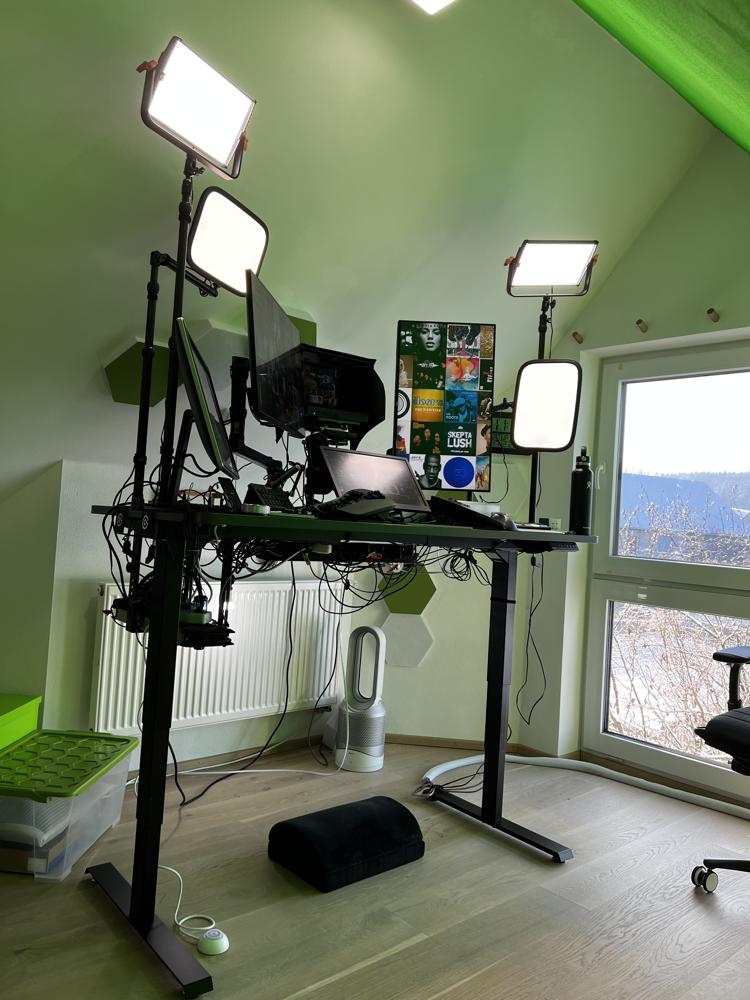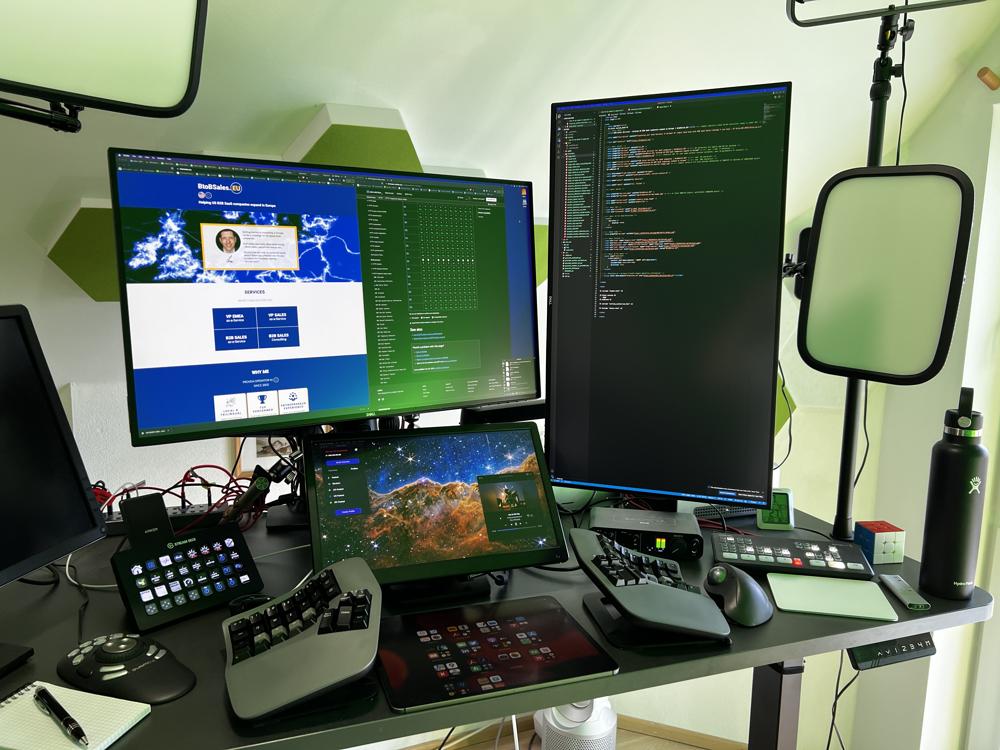 Hardware
Controllers
I am a fan of using the right tool for the job.
Case in point, I use 7 different types of input control devices on my desktop! 😁 And feel handicapped without them now.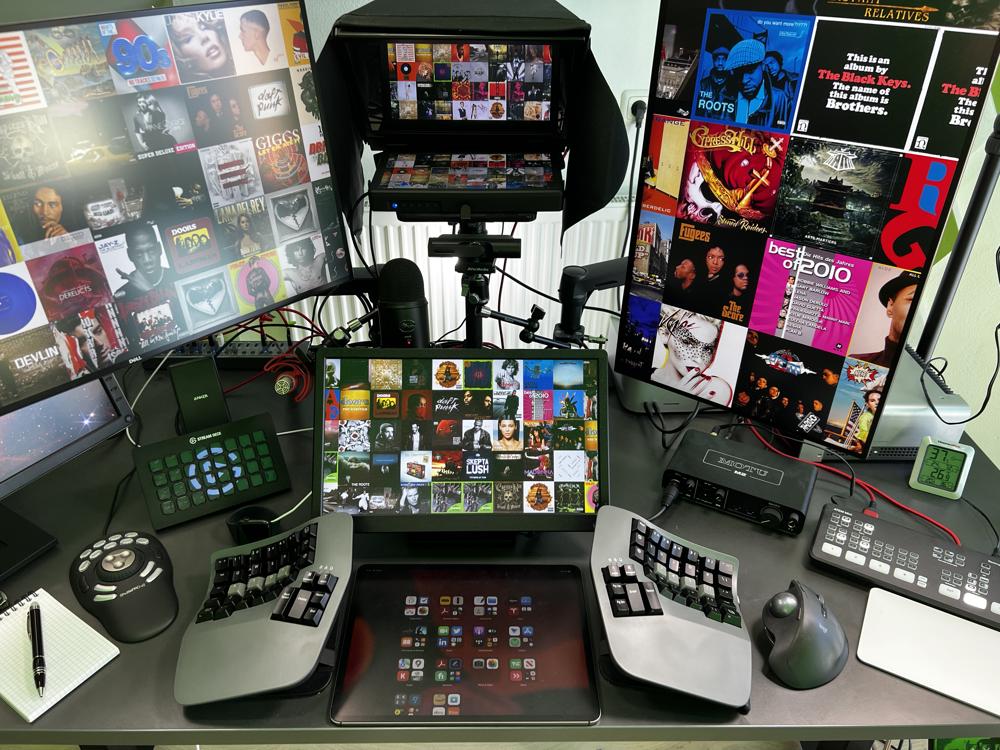 Highly recommend each, battle-tested.
From left to right:
Contour ShuttlePRO v2
for video editing of sales demo/promo videos (eg with Screenflow)... and gaining great playback controls when watching meeting recordings, ie skip, pause, fast forward, etc.. (much more efficient than attending live :)
iPad with GoodNotes (app) + Paperlike (screen protection with a paper feel)
for notes-taking, sketching ideas, etc.. App + screen protection make it a great experience, without them it does not work for me.
Elgato Streamdeck
Designed by/for gamers and streamers originally - and I am neither. Amazing for business purposes though :) I have 300+ automations behind this, and keep adding more - brings your sales demos and daily work to another level.
"Programmable keypad" doesn't do it any favours. Automate almost anything with it.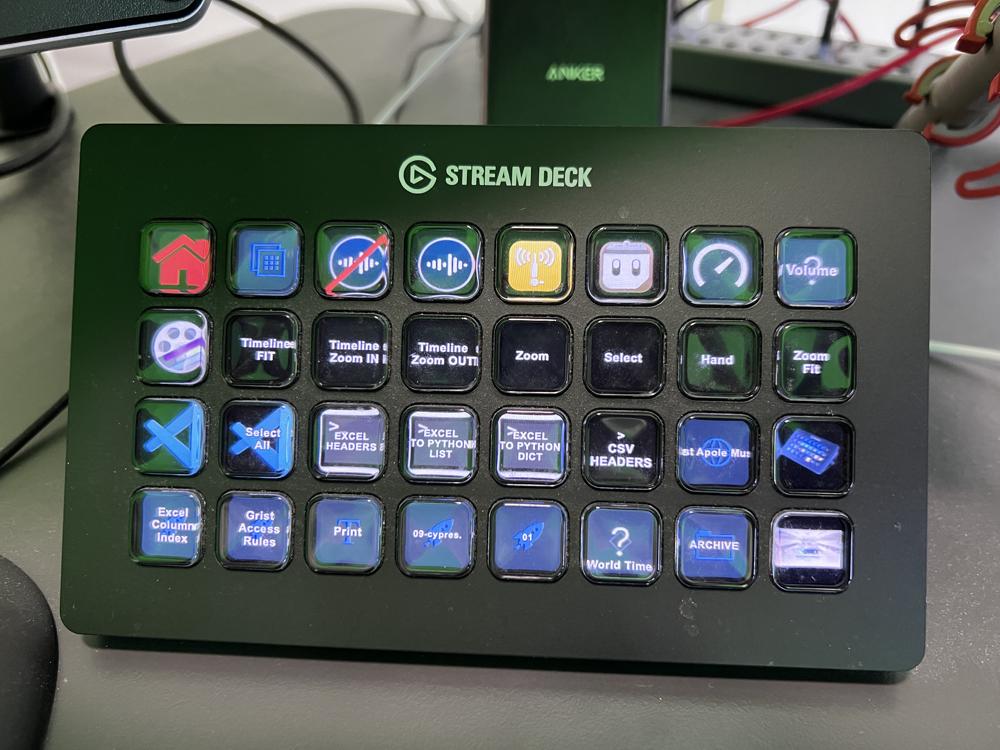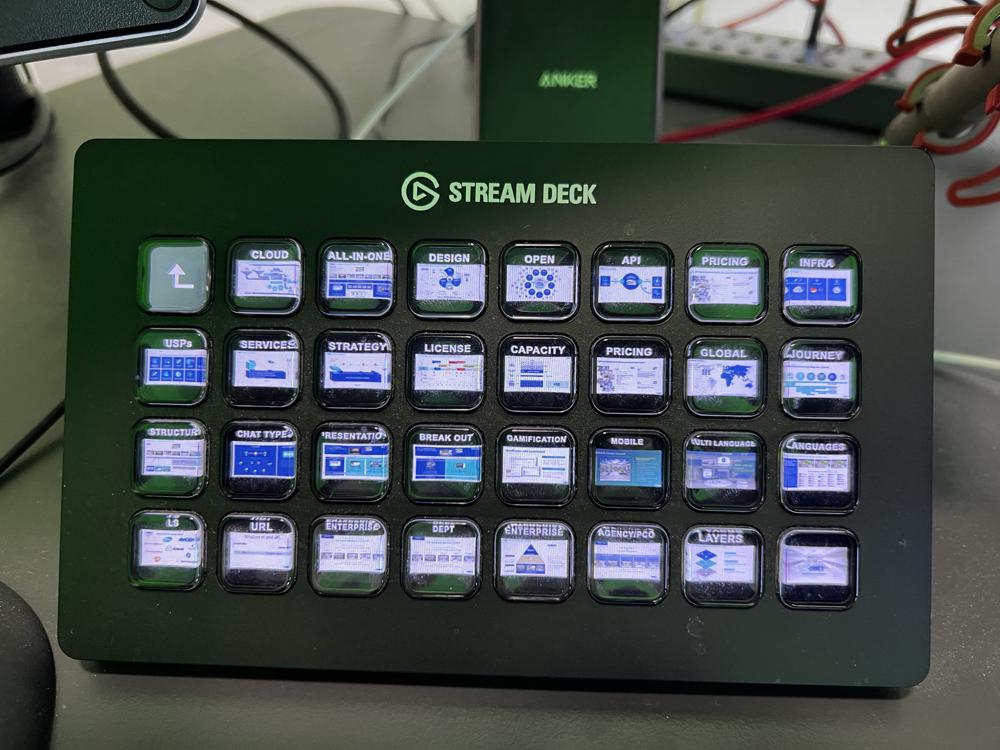 Keyboard Kinesis Advantage 360
My 2nd Kinesis keyboard - can't imagine working at a desk anymore without it. Steep learning curve, but amazing ergonomics and efficiency, especially with the 2 thumb keys clusters. Helped me increase my typing speed to 75 words per minute (WPM) - aiming to reach 100 WPM at some point.
Normal keyboards feel weirdly conceived and slow now :)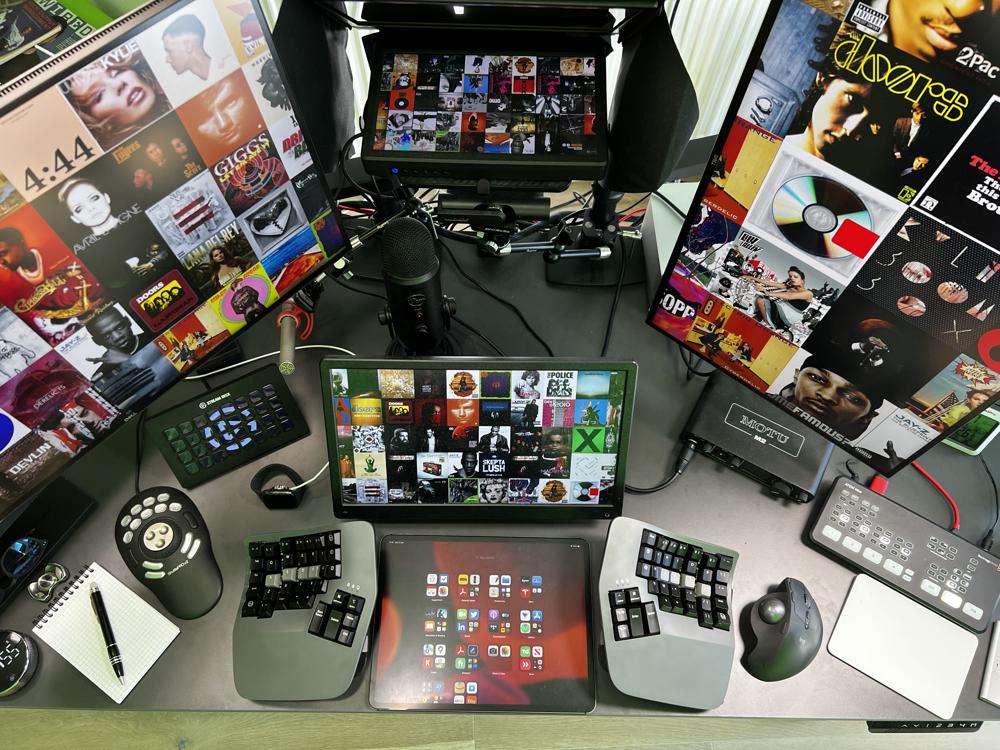 BlackMagicDesign ATEM Mini
to control your appearance and extend your possibilities during online meetings. See if your audio/video is live, hardware buttons to mute/unmute, show/hide, share your iPad screen as webcam, and much more. Designed for live streaming originally.
Logitech trackball with programmable keys
trackball makes navigating a large screen estate (eg my 4x screens) a breeze + sifting through emails and browser tabs only with the mouse thanks to the programmable keys (mark read, delete, etc..).
MX ERGO ADVANCED WIRELESS TRACKBALL from Logitech
Took me a while to find the perfect the one.
Apple Magic Trackpad
for navigating large images or documents, especially in apps like Affinity Designer, Photo, etc..
Beyond controllers:
Audio
Airpods Max from Apple
M2 Audio Interface from MOTU (for the Rode microphone + DAC backup)
VIDAR from Schiit - Power Amplifier
Monitor Audio Silver floor standing speakers
Microphone
NTG3 Shotgun from RØDE (primary)
Yeti from Blue (backup)
Chair
I used to have a gaming chair for years and thought it was good. How wrong was I!
Back pains led me to invest in a proper ergonomic chair.
I am now a believer.
Computers
Mac Studio M1 Ultra
Mac Mini
6 months into using the Mac Studio, it's been a game changer for me. I used to spend my time freeing up RAM and rebooting my Mac Mini. Not anymore.
Kept the Mac Mini as 2nd setup where I can test things, run scripts, etc..
Both my keyboard & mouse support switching between the 2 setups.
Desk
LeetDesk Classic Gaming Desk from Leetdesk
I like the electric height adjustment, and will switch between standing and sitting a few times a day.
Light
2x Key Light from Elgato
for front-facing lighting. I like the adjustable brightness and color temperature.
4x Wallimex Pro Daylight LED Panels
for back-lighting.
Philips Hue across the house
to set the right "light mood" or activate red lights as "do not disturb" signal.
Monitors
5x total (+ iPad).
for Mac Studio:
2x Dell UltraSharp 27"4K USB-C Monitor U2720Q (3840 x 2160),
Ergotron LX Desk Mount Arms
so monitors can be easily rearranged
Beetronics 12" 1080p monitor for screensharing and screen recordings in native 1080p resolution, on a clean screen (eg no menu bar).
1x cheap 1080p display for teleprompter
Plus turning one of the Dell monitors to be vertical has been a game changer for me - for coding, web browsing, writing.. without constant scrolling.
for Mac Mini:
old Dell monitor
Teleprompter
Why a teleprompter? 2 reasons:
originally, I wanted a solution to be able to "look people in the eye" on video calls.
I'm using it also as it's intended, to read scripts during video recordings (eg for Sales videos).
PT-ELITE-PRO from IKAN - "LARGE TABLET TELEPROMPTER".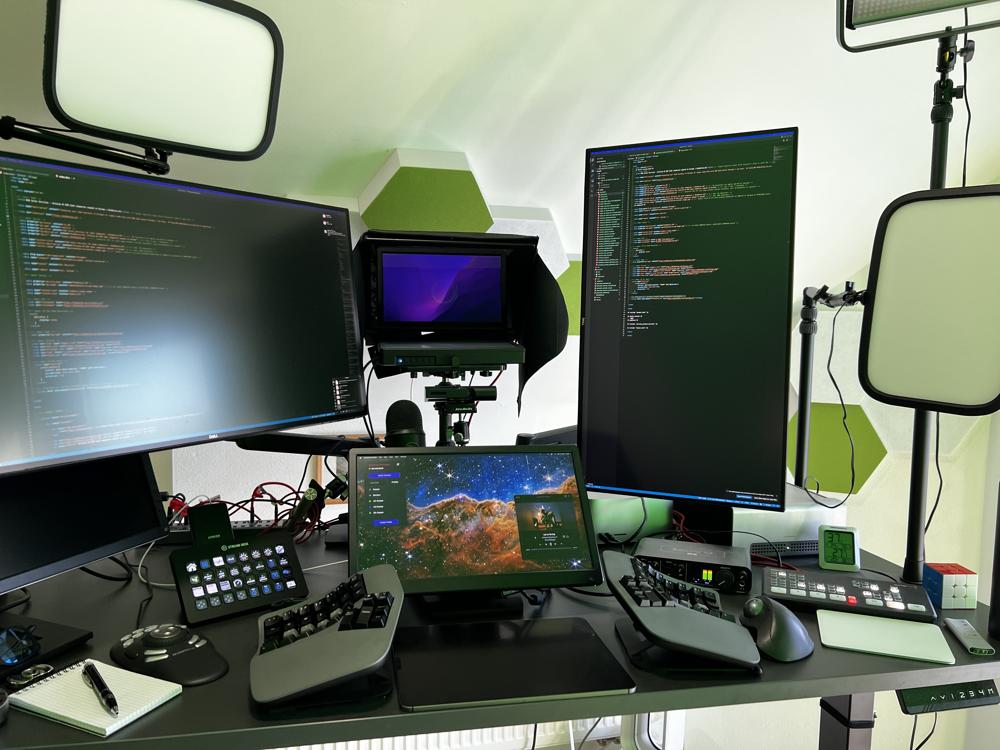 Webcam / Camera
Main: Pocket Cinema Camera 4K from Blackmagic Design
"The world's smallest Ultra HD live studio camera!". Setup with the ATEM Mini & Teleprompter.
Backup: PW513 from AVerMedia
"Webcam wide-angle 4K Ultra HD Video for live streaming or conferencing with Camengine AI Auto-Framing, ePTZ, Noise Cancellation."
Accessories
Speedcubes
Fidget spinners
Family pictures & memorabilia (eg old camera from my father's collection)
F1 model cars of Lewis Hamilton & Max Verstappen / memories of the 2021 epic F1 season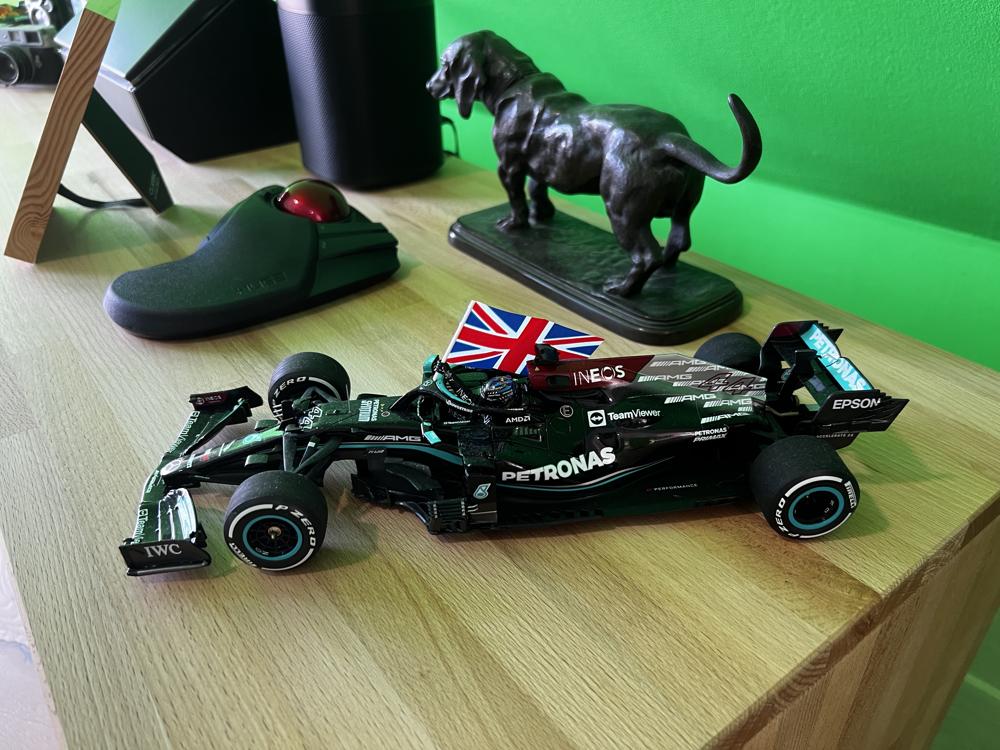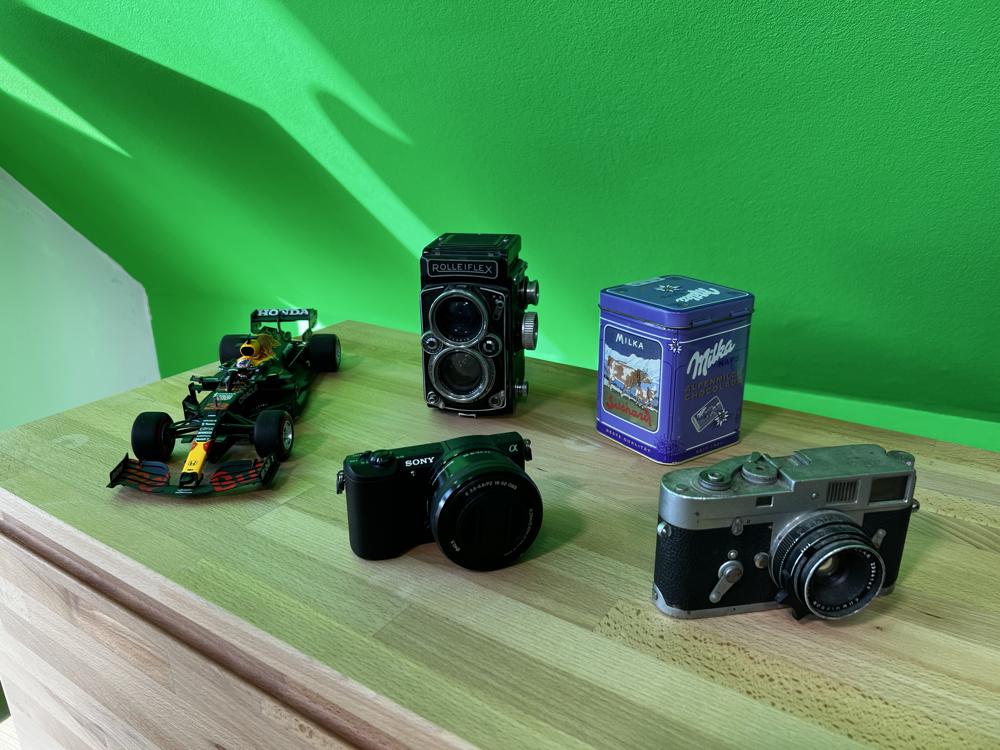 13 ports USB hub (never seem to have enough USB ports)
standing wireless charger from Anker
Planned upgrades
load-balanced internet connection with Starlink (in progress)
bigger desk
additional Ergotron arm for the Mac Mini monitor
Software
Boy, where do I start? :)
Shortlist from a long list:
Alfred
"Spotlight on steroids" doesn't do it justice. So powerful - can't imagine using a Mac without it anymore. "boosts your efficiency with hotkeys, keywords, text expansion and more."
VS Code
where I spend a lot of my time - both for programming and writing.
Affinity Designer & Photo
great alternatives to Adobe, and massive cost-savings.
Forklift & Pathfinder
Finder alternatives.
Hazel
automate your file management.
Moom
move & resize windows with keyboard shortcuts.
Trickster
"Your recently used files, at your fingertips!"
Screenflow
for video production & editing of videos - sales videos mostly in my case.
CleanShotX
for screenshots, short screen recordings & GIFs.
SnippetsLab
for code snippets management. Integrates with Alfred.
Things
personal task manager.
Audirvana
for high-fidelity audio playback.
Brave
browser - privacy, no ads/trackers, crypto, etc..
IINA
clean & powerful media player.
PullTube
to download YouTube videos - individual ones or entire channels.
I tend to download entire channels, stored on my NAS, and watch them offline.
More here: https://notes.nicolasdeville.com/apps/library/
Highly recommend a subscription to Setapp which gives you access to 200+ apps for a monthly fee.
And, not an app but: Python!!
What is your favorite item in your workspace?
It's like asking who is your favorite child! :)
Beyond the Mac Studio M1 Ultra - which solved a lot of my past problems, with its power - I'd go with the Kinesis Advantage 360 keyboard, Alfred & Elgato Streamdeck, as they have the most impact on my daily work.
How do you spark creativity?
A few things I do:
being curious and going down rabbit holes = expands my field of thinking (though can be felt as time-wasting at times!)
daily cat nap = brain reset mid-day
hot shower or bath = gets my creative juices flowing
walk in the fields/forest around = clears my mind
rowing machine = drains my mind (!)
I have a lot of ideas, and always fear forgetting one.
I setup a system whereby I can record Voice Memos from my Apple Watch, and get them automatically transcribed, ready to be actioned upon when back at my desk.
I use this to capture ideas, thoughts, etc.. that come to me when I'm not at my desk - often when I'm about to fall asleep!
How do you keep the work-life balance?
I've become better at it the last few years, but it's still a challenge.
My office space blends in with my living space and that's how I want it.
I prefer weaving the two, rather than the common advice of separating them.
I think it's good for my kids to see me working, and I like to be around them when they're home.
When I'm on a call, or in a deep work session, I have a shortcut on my Streamdeck to turn on the lights red outside of my working space, so my wife & kids know it's not a good time to disturb me :)
My electric desk also helps with this - I can easily switch to standing when not in deep work mode, which allows to do quick work tasks "in passing".
The key thing I believe is to "be present" when not at my desk, trying to be focused on the moment, and not thinking about work. Easier said than done though! :)