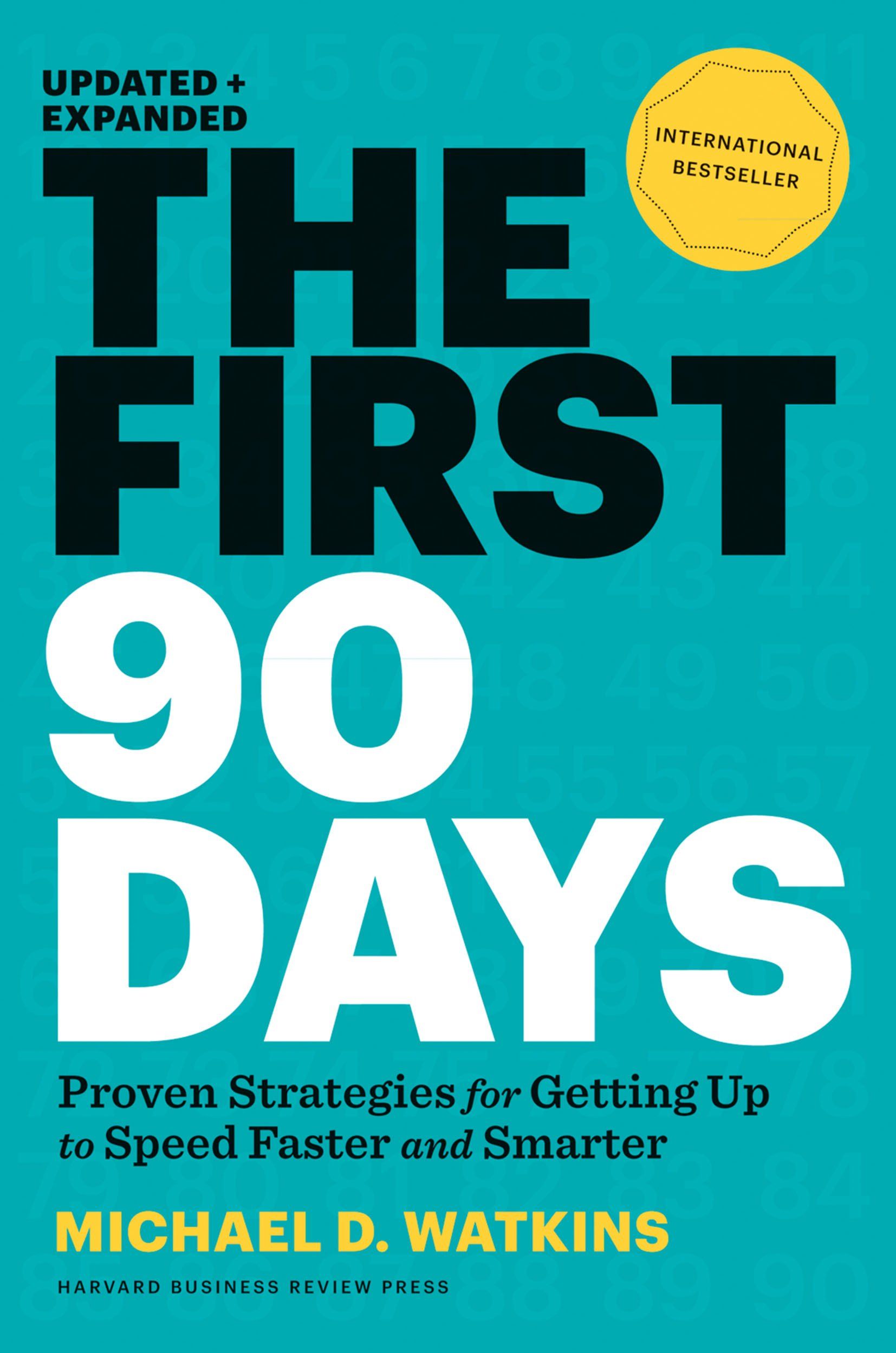 Aug 2022 read.
Most of it is obvious, but nonetheless a good framework for when starting in a new role.
My highlights
Engaging in the wrong type of learning. You spend too much time focused on learning about the technical part of the business and not enough about the cultural and political dimensions of your new role. You don't build the cultural insight, relationships, and information conduits you need if you're to understand what is really going on.
page 15
Neglecting horizontal relationships. You spend too much time focused on vertical relationships—up to the boss and down to direct reports—and not enough on peers and other stakeholders. You don't fully understand what it will take to succeed, and you miss early opportunities to build supportive alliances.
page 15
Sticking with what you know.
page 14
Falling prey to the "action imperative."
page 14
Setting unrealistic expectations.
page 14
Attempting to do too much.
page 14
Coming in with "the" answer.
page 14
Leadership ultimately is about influence and leverage. You are, after all, only one person. To be successful, you need to mobilize the energy of many others in your organization.
page 17
Transition failures happen because new leaders either misunderstand the essential demands of the situation or lack the skill and flexibility to adapt to them.
page 18
Prepare yourself.
page 18
Accelerate your learning.
page 18
Match your strategy to the situation.
page 18
Secure early wins.
page 18
In the first few weeks, you need to identify opportunities to build personal credibility. In the first 90 days, you need to identify ways to create value and improve business results that will help you get to the break-even point more rapidly.
page 18
Negotiate success.
page 19
Achieve alignment.
page 19
Create coalitions.
page 19
Keep your balance.
page 19
Accelerate everyone.
page 19
Begin by thinking about your first day in the new job. What do you want to do by the end of that day? Then move to the first week. Then focus on the end of the first month, the second month, and finally the three-month mark. These plans will be sketchy, but the simple act of beginning to plan will help clear your head.
page 21
No matter where you land, the keys to effective delegation remain much the same: you build a team of competent people whom you trust, you establish goals and metrics to monitor their progress, you translate higher-level goals into specific responsibilities for your direct reports, and you reinforce them through process.
page 26
When you get promoted, however, what you delegate usually needs to change. If you're leading an organization of five people, it may make sense to delegate specific tasks such as drafting a piece of marketing material or selling to a particular customer. In an organization of fifty people, your focus may shift from tasks to projects and processes. At five hundred people, you often need to delegate responsibility for specific products or platforms. And at five thousand people, your direct reports may be responsible for entire businesses.
page 26
Decision making becomes more political—less about authority, and more about influence. That isn't good or bad; it's simply inevitable.
page 26
So it shouldn't come as a surprise that the decision-making game becomes much more bruising and politically charged the higher up you go. It's critical, then, for you to become more effective at building and sustaining alliances.
page 26
Leaders joining new companies often are making lateral moves: they've been hired to do things that they've been successful doing elsewhere. Their difficulties lie in adjusting to new organizational contexts that have different political structures and cultures.
page 28
To overcome these barriers and succeed in joining a new company, you should focus on four pillars of effective onboarding: business orientation, stakeholder connection, alignment of expectations, and cultural adaptation.
page 30
Stakeholder Connection
page 31
don't want to be meeting your neighbors for the first time in the middle of the night when your house is burning down.
page 31
Expectations Alignment No matter how well you think you understand what you're expected to do, be sure to check and recheck expectations once you formally join your new organization.
page 31
recruiting is like romance, and employment is like marriage.
page 31
Cultural Adaptation
page 32
In doing this, it helps to think of yourself as an anthropologist sent to study a newly discovered civilization.
page 32
What is culture? It's a set of consistent patterns people follow for communicating, thinking, and acting, all grounded in their shared assumptions and values.
page 32
Identifying Cultural Norms
page 33
Influence. How do people get support for critical initiatives?
page 34
Meetings. Are meetings filled with dialogue on hard issues, or are they simply forums for publicly ratifying agreements that have been reached in private?
page 34
Execution. When it comes time to get things done, which matters more—a deep understanding of processes or knowing the right people?
page 34
Conflict. Can people talk openly about difficult issues without fear of retribution?
page 34
Recognition. Does the company promote stars, rewarding those who visibly and vocally drive business initiatives? Or does it encourage team players, rewarding those who lead authoritatively but quietly and collaboratively?
page 34
Ends versus means. Are there any restrictions on how you achieve results? Does the organization have a well-defined, well-communicated set of values that is reinforced through positive and negative incentives?
page 34
Onboarding checklists Business orientation checklist As early as possible, get access to publicly available information about financials, products, strategy, and brands. Identify additional sources of information, such as websites and analyst reports. If appropriate for your level, ask the business to assemble a briefing book. If possible, schedule familiarization tours of key facilities before the formal start date. Stakeholder connection checklist Ask your boss to identify and introduce you to the key people you should connect with early on. If possible, meet with some stakeholders before the formal start. Take control of your calendar, and schedule early meetings with key stakeholders. Be careful to focus on lateral relationships (peers, others) and not only vertical ones (boss, direct reports). Expectations alignment checklist Understand and engage in business planning and performance management. No matter how well you think you understand what you need to do, schedule a conversation with your boss about expectations in your first week. Have explicit conversations about working styles with bosses and direct reports as early as possible. Cultural adaptation checklist During recruiting, ask questions about the organization's culture. Schedule conversations with your new boss and HR to discuss work culture, and check back with them regularly. Identify people inside the organization who could serve as culture interpreters. After thirty days, conduct an informal 360-degree check-in with your boss and peers to gauge how adaptation is proceeding.
page 35
You can do a lot to compensate for your vulnerabilities. Three basic tools are self-discipline, team building, and advice and counsel.
page 39
If you have been hired from the outside, ask for help in identifying and connecting with key stakeholders or finding a cultural interpreter. These people often are natural historians who can give you insight into how the organization has evolved and changed.
page 41
Chris Hadley headed the quality assurance function at Dura Corporation,
page 43
A baseline question you always should ask is, "How did we get to this point?"
page 45
Effective leaders strike the right balance between doing (making things happen) and being (observing and reflecting).
page 45
Remember: simply displaying a genuine desire to learn and understand translates into increased credibility and influence.
page 45
Leaders who are onboarding into new organizations must therefore focus on learning and adapting to the new culture. Otherwise they risk suffering the organizational equivalent of organ rejection syndrome (with the new leaders being the organs). They do things that trigger the organization's immune system and find themselves under attack as a foreign body.
page 45
How should you compile your early list of guiding questions? Start by generating questions about the past, the present, and the future (see boxes, "Questions About the Past," "Questions About the Present," and "Questions About the Future").
page 47
One approach is to keep to the same script in all your meetings. You might start with brief opening remarks about yourself and your approach, followed by questions about the other person (background, family, and interests) and then a standard set of questions about the business.
page 53
Ask them essentially the same five questions: What are the biggest challenges the organization is facing (or will face in the near future)? Why is the organization facing (or going to face) these challenges? What are the most promising unexploited opportunities for growth? What would need to happen for the organization to exploit the potential of these opportunities? If you were me, what would you focus attention on?
page 53
Once you have distilled these early discussions into a set of observations, questions, and insights, convene your direct reports as a group, feed them back your impressions and questions, and invite discussion. You will learn about both substance and team dynamics and will simultaneously demonstrate how quickly you have begun to identify key issues.
page 54
If you're meeting with salespeople, for example, consider asking, What do our customers want that they're getting from our competitors and not getting from us?
page 54
learning should be a primary focus of your plan for your first 30 days on the job (unless, of course, there is a disaster in progress).
page 58
The first question is, What kind of change am I being called upon to lead?
page 63
The second question is, What kind of change leader am I?
page 63
Using the STARS Model STARS is an acronym for five common business situations leaders may find themselves moving into: start-up, turnaround, accelerated growth, realignment, and sustaining success.
page 63
The next step in applying the STARS model is to diagnose your STARS portfolio; you must figure out which parts of your new organization belong in each of the five categories.
page 67
Negotiating success means proactively engaging with your new boss to shape the game so that you have a fighting chance of achieving desired goals.
page 78
Many managers mistakenly assume that they can continue to work with a current boss in the same way despite being in a different role. Don't make this error.
page 78
(This is a good thing to keep in mind in dealing with direct reports, too. It can be dangerous to say, "Don't bring me problems, bring me solutions." Far better is, "Don't just bring me problems, bring me plans for how we can begin to address them.")
page 79
it's your responsibility to adapt to your boss's style; you
page 80
it's your responsibility to adapt to your boss's style; you need to adapt your approach to work with your boss's preferences.
page 80
Clarify expectations early and often.
page 80
Take 100 percent responsibility for making the relationship work. This is the flip side of "Don't stay away." Don't expect your boss to reach out or to offer you the time and support you need. It's best to begin by assuming that it's on your shoulders to make the relationship work. If your boss meets you partway, it will be a welcome surprise.
page 80
Negotiate time lines for diagnosis and action planning.
page 80
Aim for early wins in areas important to the boss. Whatever your own priorities, figure out what your boss cares about most.
page 80
One good way is to focus on three things that are important to your boss and discuss what you're doing about them every time you interact. In that way, your boss will feel ownership of your success.
page 80
Pursue good marks from those whose opinions your boss respects.
page 80
Planning for Five Conversations
page 81
The situational diagnosis conversation.
page 81
The expectations conversation.
page 81
The resource conversation.
page 81
The style conversation.
page 81
The personal development conversation.
page 82
Clarify, Clarify, Clarify Even if you're sure you know what your boss expects, you should go back regularly to confirm and clarify.
page 86
Ambiguity about goals and expectations is dangerous. A tie in a conflict over what was said about expectations in an earlier conversation doesn't go to you. It goes to your boss.
page 87
Negotiate for Resources As you seek commitments for resources, keep these principles of effective negotiation in mind. Focus on underlying interests. Probe as deeply as possible to understand the agendas of your boss and any others from whom you need to secure resources. What is in it for them? Look for mutually beneficial exchanges. Seek resources that both support your boss's agenda and advance your own. Look for ways to help peers advance their agendas in return for help with yours. Link resources to results. Highlight the performance benefits that will result if more resources are dedicated to your unit. Create the menu described earlier, laying out what you can achieve (and cannot achieve) with current resources and what different-sized increments would allow you to do.
page 88
The first step is to diagnose your new boss's working style and figure out how it jibes with your own.
page 89
You might simply say that you expect to notice differences in how the two of you approach certain issues or decisions but that you're committed to achieving the results to which you have both agreed.
page 91
It may also help to judiciously discuss style issues with someone your boss trusts, who can enlighten you about potential issues and solutions before you raise them directly with your boss. If you find the right adviser, he may even help you broach a difficult issue in a nonthreatening manner.
page 91
Your willingness to seek candid feedback on your strengths and weaknesses—and, critically, your ability to act on the feedback—sends a powerful message.
page 91
Your key outputs at the end of the first 30 days will be a diagnosis of the situation, an identification of key priorities, and a plan for how you will spend the next 30 days.
page 93
At the 60-day mark, your review meeting should focus on assessing your progress toward the goals of your plan for the previous 30 days. You should also discuss what you plan to achieve in the next 30 days (that is, by the end of 90 days).
page 93
stay open to the possibility that you will lead change differently in different parts of your STARS portfolio.
page 111
To accomplish any of these goals, you would be well advised to focus on setting up a collective learning process and not on developing and imposing change plans. If many people in the organization are willfully blind to emerging problems, for example, you must put in place a process to pierce this veil.
page 111
The key is to identify both the good and the bad elements of the existing culture. Elevate and praise the good elements even as you seek to change the bad ones. These functional aspects of the familiar culture are a bridge that can help carry people from the past to the future.
page 113
The higher you climb in organizations, the more you take on the role of organizational architect, creating and aligning the key elements of the organizational system: the strategic direction, structure, core processes, and skill bases that provide the foundation for superior performance.
page 117
Avoiding Common Traps
page 117
Making changes for change's sake.
page 117
Not adjusting for the STARS situation.
page 117
Trying to restructure your way out of deeper problems. Overhauling your organization's structure when the real issues lie in the processes, skill bases, and culture can amount to rearranging the deck chairs on the Titanic.
page 118
Creating structures that are too complex.
page 118
Strive, where possible, for clear lines of accountability. Simplify the structure to the greatest degree possible without compromising core goals.
page 118
Overestimating your organization's capacity to absorb change.
page 118
Elements of organizational architecture
page 119
Defining Strategic Direction Strategic direction encompasses mission, vision, and strategy. Mission is about what will be achieved, vision is about why people should feel motivated to perform at a high level, and strategy is about how resources should be allocated and decisions made to accomplish the mission.
page 122
How do you evaluate the logic of the organization's strategic direction? Start by looking at documents that describe your group's mission, vision, and strategy. Then disassemble them into their components: markets, products, technologies, functional plans, and goals.
page 123
From SWOT to TOWS
page 124
The correct approach is to start with the environment and then analyze the organization.
page 125
To evaluate the efficiency and effectiveness of each core process, you should examine four aspects: Productivity. Does the process efficiently transform knowledge, materials, and labor into value? Timeliness. Does the process deliver the desired value in a timely manner? Reliability. Is the process sufficiently reliable, or does it break down too often? Quality. Does the process deliver value in a way that consistently meets required quality standards?
page 131
Process analysis stimulates collective learning. It helps the entire group understand exactly who does what, within and between units or groups, to carry out a particular process.
page 132
Establish Your Evaluative Criteria
page 140
Consider these six criteria: Competence. Does this person have the technical competence and experience to do the job effectively? Judgment. Does this person exercise good judgment, especially under pressure or when faced with making sacrifices for the greater good? Energy. Does this team member bring the right kind of energy to the job, or is she burned out or disengaged? Focus. Is this person capable of setting priorities and sticking to them, or prone to riding off in all directions? Relationships. Does this individual get along with others on the team and support collective decision making, or is he difficult to work with? Trust. Can you trust this person to keep her word and follow through on commitments?
page 140
Meet one-on-one with each member of your new team as soon as possible.
page 143
Prepare for each meeting. Review available personnel history, performance data, and other appraisals. Familiarize yourself with each person's technical or professional skills so that you can assess how he functions on the team. Create an interview template. Ask people the same set of questions, and see how their answers vary. Here are sample questions.
page 143
Look for verbal and nonverbal clues. Note choices of words, body language, and hot buttons.
page 144
One way is to test people's judgment in a domain in which feedback on their predictions will emerge quickly. Experiment with the following approach. Ask individuals about a topic they're passionate about outside work. It could be politics or cooking or baseball; it doesn't matter.
page 144
Evolving Your Team
page 145
Keep in place. The person is performing well in her current job. Keep and develop. The individual needs development, and you have the time and energy to do it. Move to another position. The person is a strong performer but is not in a position that makes the most of his skills or personal qualities. Replace (low priority). The person should be replaced, but the situation is not urgent. Replace (high priority). The person should be replaced as soon as possible. Observe for a while. This person is still a question mark, and you need to learn more before you can make a definitive judgment about them.
page 146
An inspiring vision has the following attributes: It taps into sources of inspiration. It is built on a foundation of intrinsic motivators, such as teamwork and contribution to society. One orthopedic medical device company, for example, had "Restoring the joy of motion" as its vision statement, accompanied by stories about injured athletes being able to compete again, and grandparents being able to hold their grandkids. It makes people part of "the story." The best statements of vision connect people to a larger narrative that provides meaning—for example, a quest to recapture the organization's past glories. It contains evocative language. The vision must describe in graphic terms what the organization will achieve and how people will feel to have achieved it. Launching twelve rockets in ten years is a goal; putting a man on the moon and returning him safely to Earth by the end of the decade, as President John F. Kennedy put it, is a vision.
page 151
Use consultation to gain commitment.
page 152
Develop stories and metaphors to communicate it.
page 152
Develop channels for communicating it.
page 153
There are at least six important reasons for having off-site meetings: To gain a shared understanding of the business (diagnostic focus) To define the vision and create a strategy (strategy focus) To change the way the team works together (team-process focus) To build or alter relationships in the group (relationship focus) To develop a plan and commit to achieving it (planning focus) To address conflicts and negotiate agreements (conflict-resolution focus)
page 153
The key is to have a framework for understanding and communicating why different decisions will be approached in different ways.
page 156
As you learn more, try to identify the sources of power that give particular people influence in the organization. Here are examples: Expertise Control of information Connections to others Access to resources, such as budgets and rewards Personal loyalty
page 166
True adversaries will oppose you no matter what you do. They may believe you're wrong in your assessments of the situation. Or they may have other reasons for resistance to your agenda: Comfort with the status quo. They resist changes that might undermine their positions or alter established relationships. Fear of looking incompetent. They fear seeming or feeling incompetent if they have trouble adapting to the changes you're proposing and perform inadequately afterward. Threats to core values. They believe you're promoting a culture that spurns traditional definitions of value or rewards inappropriate behavior.
page 168
Threats to their power. They fear that the change you're proposing (such as giving more decision rights to frontline managers) would deprive them of power. Negative consequences for their allies. They fear that your agenda will have negative consequences for others they care about or feel responsible for.
page 168
Consultation promotes buy-in, and good consultation means engaging in active listening. You pose questions and encourage people to voice their real concerns, and then you summarize and feed back what you've heard. This approach signals that you're paying attention and taking the conversation seriously. The power of active listening as a persuasive technique is vastly underrated. It can not only promote acceptance of difficult decisions but also channel people's thinking and frame choices. Because the questions leaders ask and the ways they summarize responses have a powerful effect on people's perceptions, active listening and framing are a potent persuasive technique.
page 171
Framing means carefully crafting your persuasive arguments on a person-by-person basis. It's well worth the time to get your framing right.
page 172
Choice-shaping is about influencing how people perceive their alternatives. Think hard about how to make it hard to say no. Sometimes choices are best posed broadly, at other times more narrowly. If you're asking someone to support something that could be seen as setting an undesirable precedent, it might best be framed as a highly circumscribed, isolated situation independent of other decisions.
page 173
Social influence is the impact of the opinions of others and the rules of the societies in which they live. The knowledge that a highly respected person already supports an initiative alters others' assessments of its attractiveness. So convincing opinion leaders to make commitments of support and to mobilize their own networks can have a powerful leveraging effect.
page 174
Incrementalism refers to the notion that people can move in desired directions step-by-step when they wouldn't go in a single leap. Mapping out a pathway from A to B is highly effective, because each small step taken creates a new psychological reference point for people in deciding whether to take the next one.
page 174
Sequencing means being strategic about the order in which you seek to influence people to build momentum in desired directions.6 If you approach the right people first, you can set in motion
page 175
Action-forcing events get people to stop deferring decisions, delaying, and avoiding commitment of scarce resources. When your success requires the coordinated action of many people, delay by a single individual can have a cascade effect, giving others an excuse not to proceed. You must therefore eliminate inaction as an option. You do this by setting up action-forcing events—events that induce people to make commitments or take actions. Meetings, review sessions, teleconferences, and deadlines can all help create and sustain momentum: regular meetings to review progress, and tough questioning of those who fail to reach agreed-to goals, increase the psychological pressure to follow through.
page 175
All these syndromes can contribute to dangerous levels of stress. Not all stress is bad. In fact, there is a well-documented relationship between stress and performance known as the Yerkes-Dodson curve, illustrated in figure 9-1.2 Whether stress is self-generated or externally imposed, you need some stress (often in the form of positive incentives or consequences from inaction) to be productive. Without it, not much happens—you stay in bed munching chocolates.
page 181
Pillar 1: Adopt 90-Day Strategies
page 182
Pillar 2: Develop Personal Disciplines
page 183
Personal disciplines are the regular routines you enforce on yourself ruthlessly. What specific disciplines are the highest priorities for you? It depends on what your strengths and weaknesses are.
page 183
Plan to Plan. Do you devote time daily and weekly to a plan-work-evaluate cycle? If not, or if you do so irregularly, you need to be more disciplined about planning. At the end of each day, spend ten minutes evaluating how well you met your goals and then planning for the next day. Do the same thing at the end of each week. Get into the habit of doing this. Even if you fall behind, you will be more in control.
page 183
Focus on the Important. Do you devote time each day to the most important work that needs to be done?
page 184
Pillar 3: Build Your Support Systems
page 185