14 Sep 2022
AVMTon HDMI KVM Switch 2-Port
In use since Jun '22.
Enables me to use only 1x set of keyboard (Kinesis Advantage 2) and trackball (Logitech) to control my 2 computers (Mac Studio & Mac Mini).
I'm not using the HDMI output as I have separate monitors for each computers and need it that way.
Keyboard is USB and trackball is wireless but uses a USB transmitter, so both are connected at the front.
Output on the back is USB to each computer (and HDMI not connected).
Positioned near the Escape key of my keyboard, so seamless to switch controls: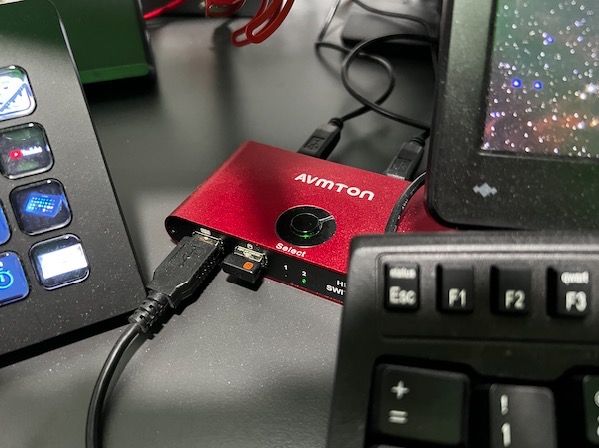 It is possible in theory to assign keyboard shortcut to switch, but haven't managed to make it work. Position is good enough to enable a "blind switch" (ie touch typing).
Button has a good feel to it, and lights at the front to indicate computer being controlled is useful.
Would be even better if inputs would be connected on the back instead of front - makes it a bit messier - though I understand space limitations in such a small device.
User Manual