03 Jan 2023
My CV is published online so I can easily share a link, and update it as needed, so the link is always up to date.
I set it up as a hosted PDF instead of a webpage, as most recruiters (companies) want a document they can process in their system.
Used the Adobe Embed API for it.
I have also added basic (privacy conscious) analytics (with Plausible !apps/plausible) so I can see the number of visits.
The basic HTML code is hosted on Github:
and the site deployed for free with Github Pages !helpers/github-pages.
Feedback
ATS friendly version
07 Mar 2023
I have updated my CV a couple times, based on various recruiters' feedback.
Since I started job hunting in mid-Jan, I have been engaged on 7-8 opps so far, via my network & recruiters mostly, though no right match still.
While my CV receives praises from recruiters when it is looked at, I do not get any response on applications submitted online, eg Linkedin Jobs, etc..
One of the reason could be that my fancy formatting - which I like as it represents me, and helps me stand out when looked at by a human - might not pass the ATS (Applicant Tracking System) filters.
Looking now at creating a simpler ATS-friendly version, focusing on passing those filters, with a link to the full formatted version.
Or the link to the formatted version can just be used for direct outreaches or subsequent steps.
Using their resume checker on above page - Result: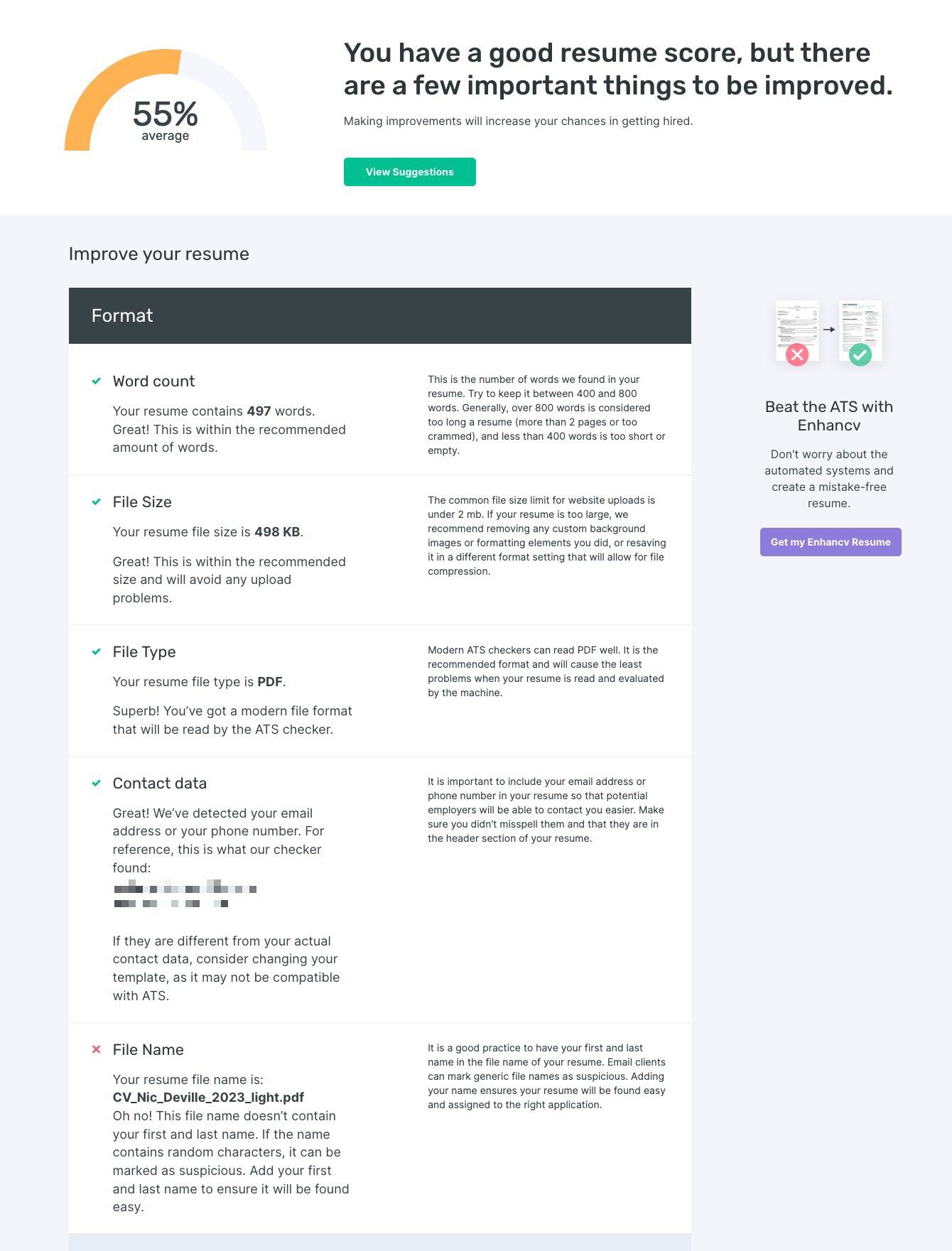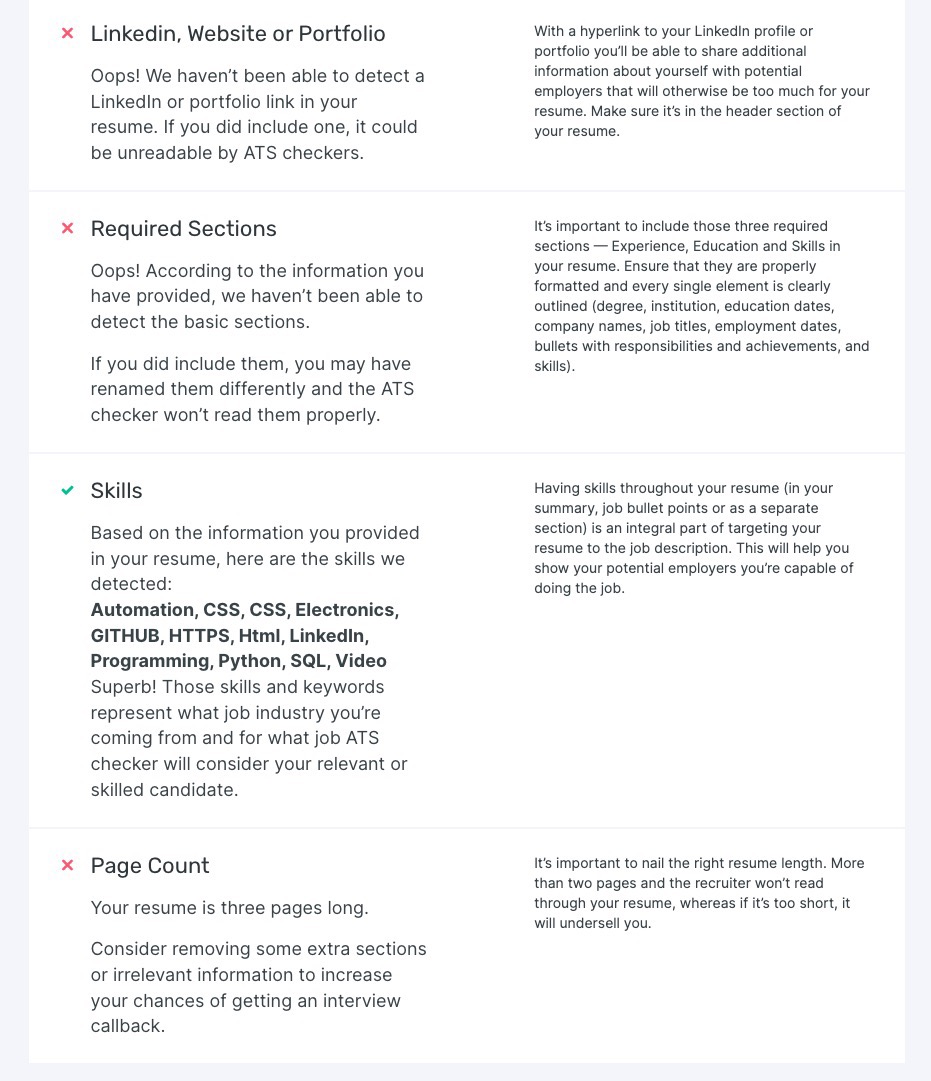 and 😂 :
Choosing a template for my ATS-friendly version: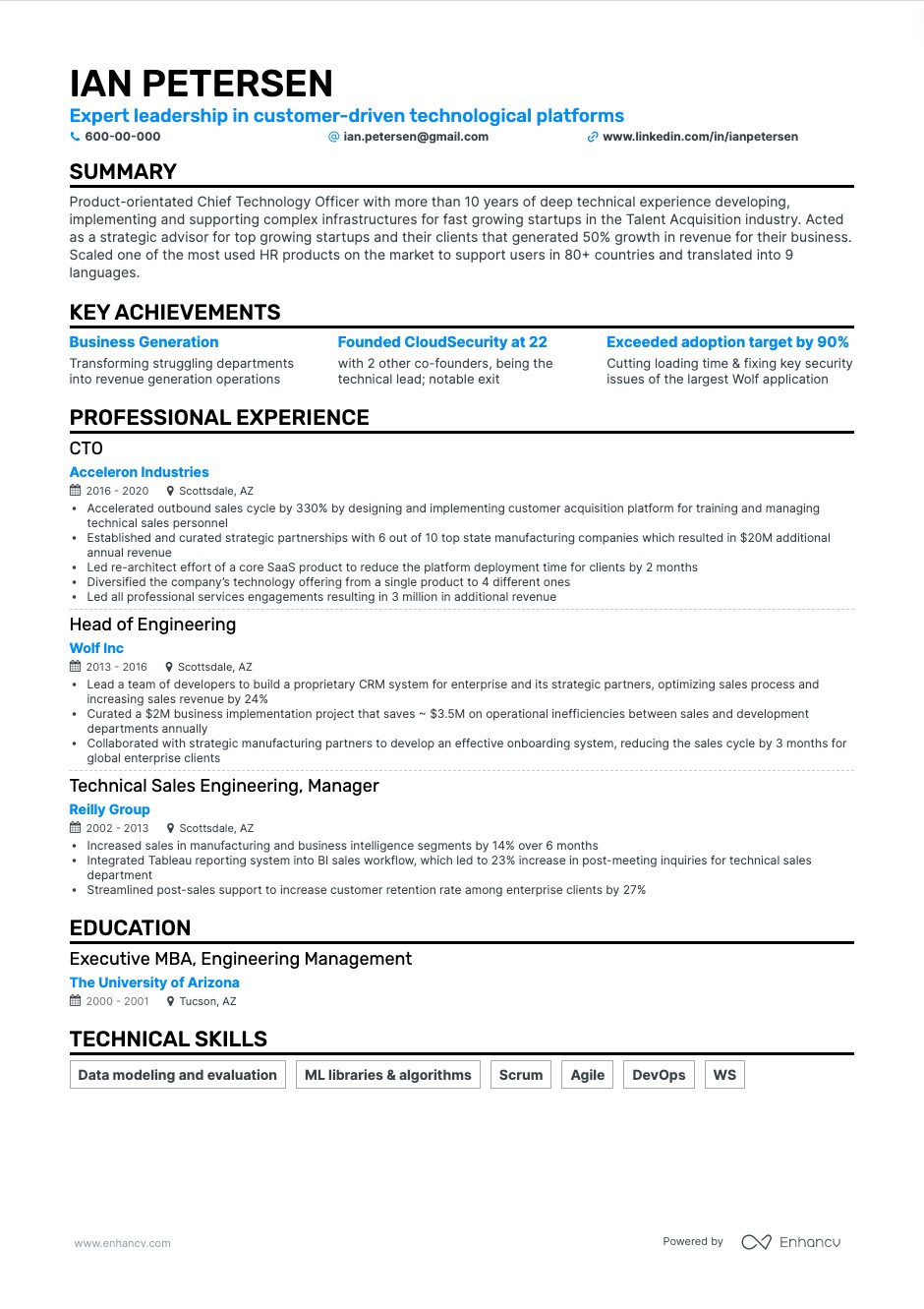 v1 of my ATS version: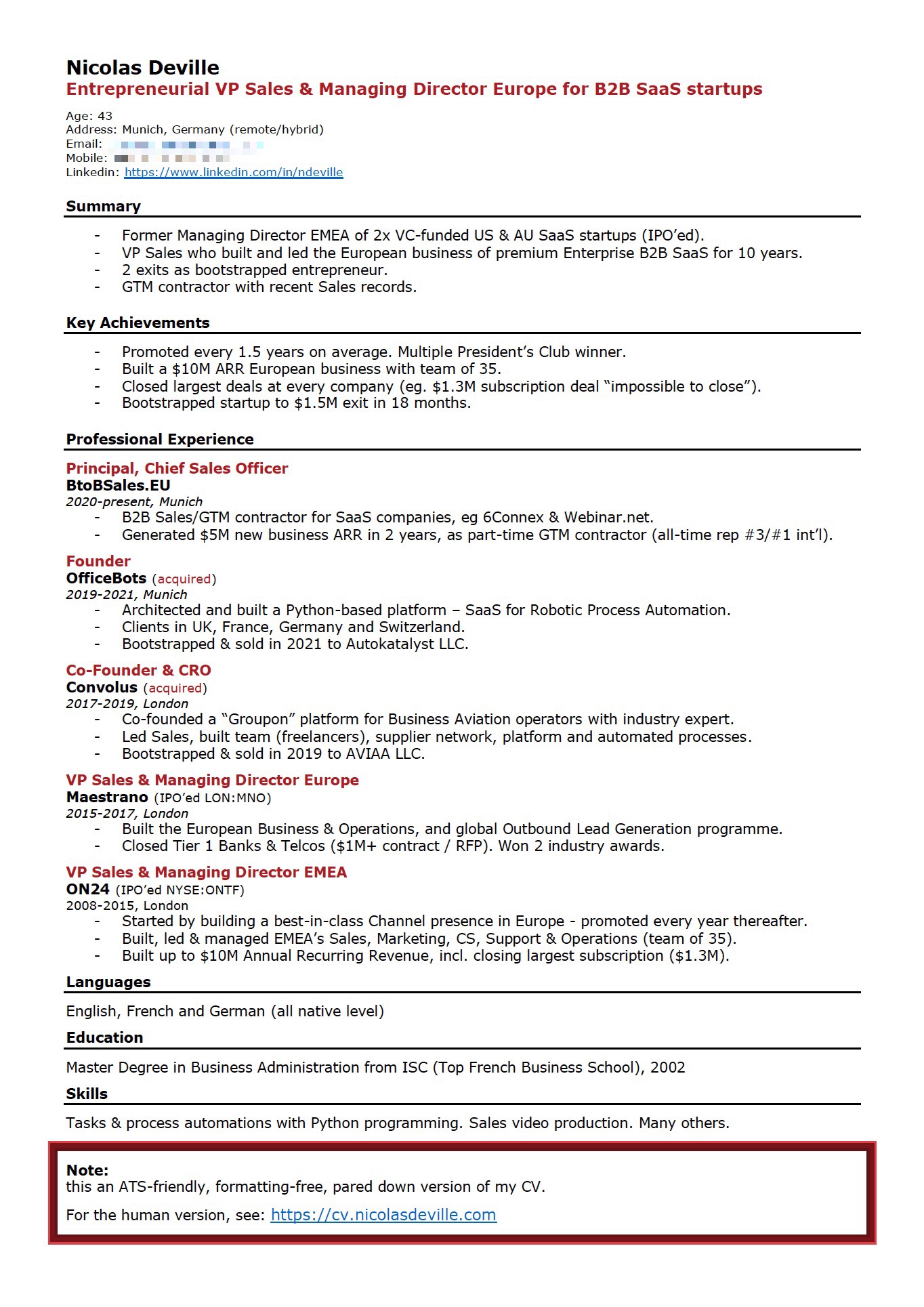 Results of the resume checker above are odd - word count is off, sections not recognized, etc..
Trying this one:
Better results & granularity.. .but not easy to build an ATS-friendly CV 😅

08 Mar 2023
Better, but not perfect: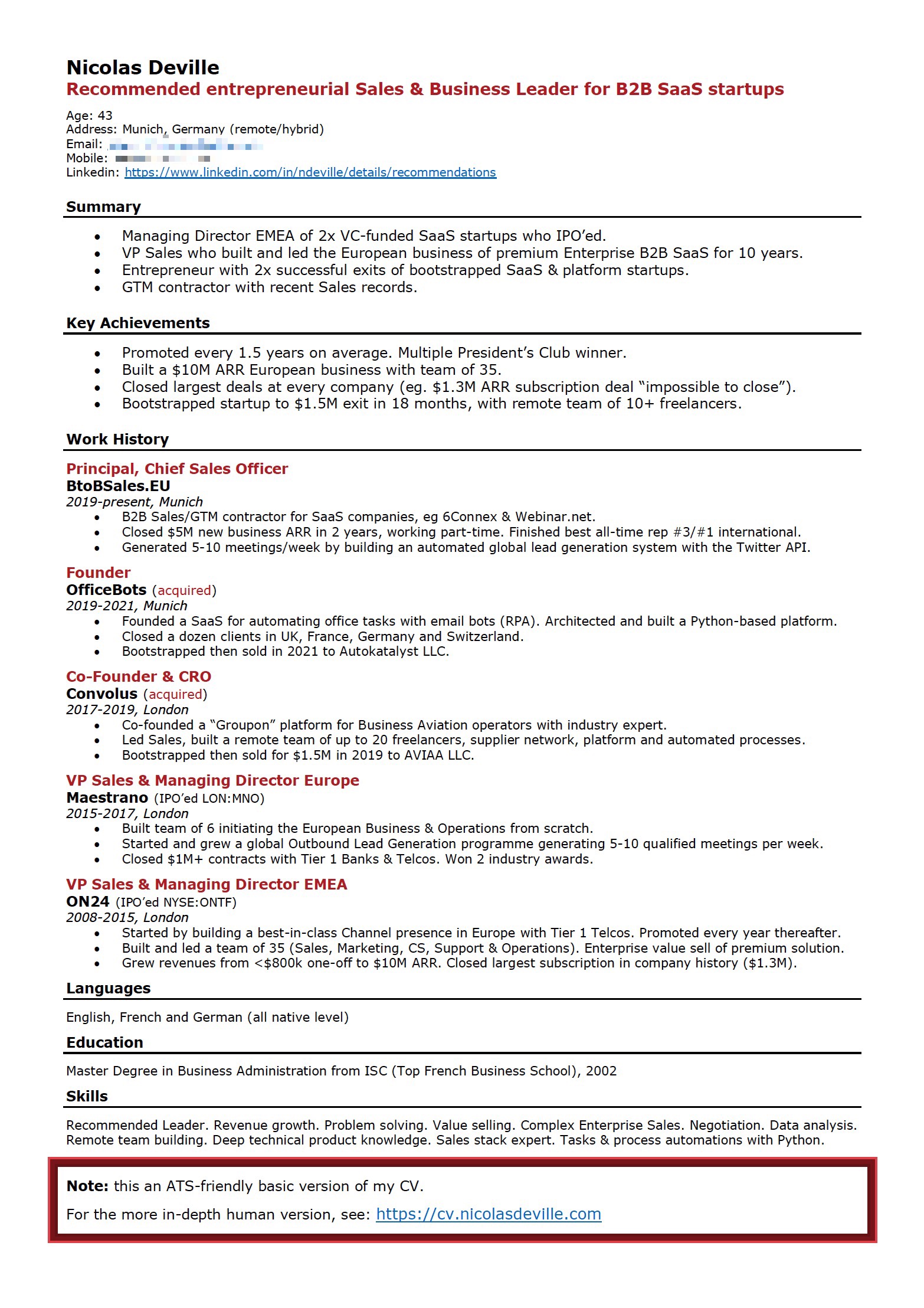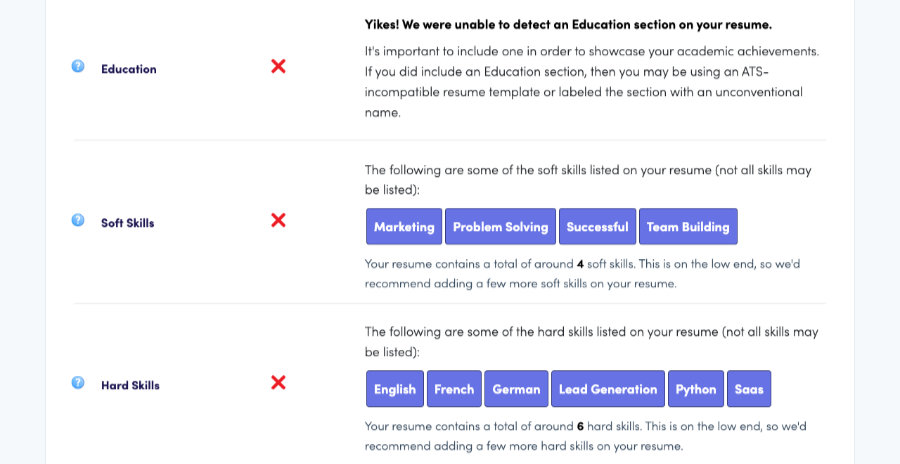 Resources
Harvard
Geared towards early career students, but still useful for anyone.
Stanford
Geared towards early career students, but still useful for anyone.
SasS
I went down a different path, but here are potential useful sites for CV creation & hosting:
Carrd
CV Engineer
Designs.ai
EnhanCV
Kickresume
Automate your CV creation with our AI Resume Writer.
myPerfectCV
ResumA.I.
Resume.com
Resume.io
ResumePerk
Resume Worded
Rezi
Sumry
This Resume Does Not Exist