22 Mar 2023
After having tried many different options for manipulating CSV files - Excel, Numbers, TablePlus, etc. - just bought Easy CSV Editor from the macOS App Store.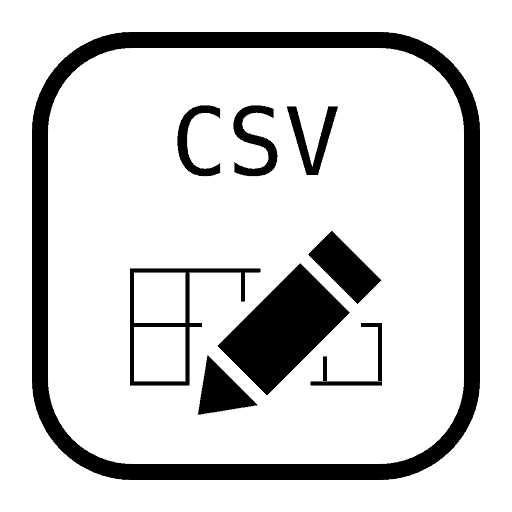 Easy CSV Editor
vdt-labs.com
I actually bought the full pack from the same editor at once - the "Essential Editor Bundle" - which also includes a JSON editor and a PLIST editor..
I had the issue a few months ago where I could not edit a .plist file, so for £3 more (£12 total), worth having them all.
Else Easy CSV Editor is £9.99, and the other two are £5 each.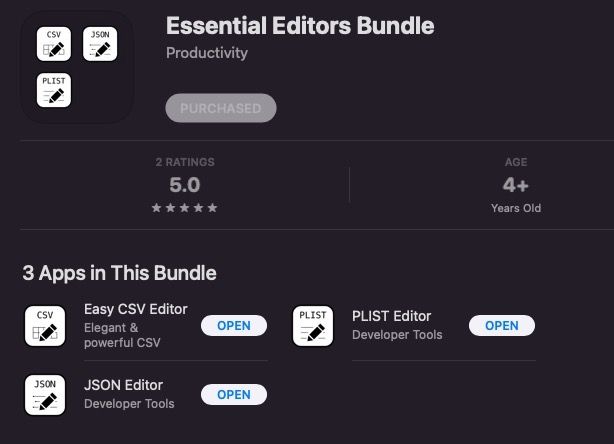 It's an indie developer behind, from Romania. I like supporting indie developers.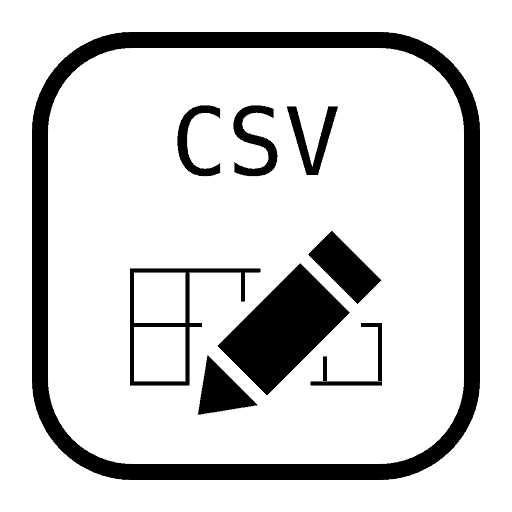 Anyway, starting to use Easy CSV Editor now..
Settings
Good set of options.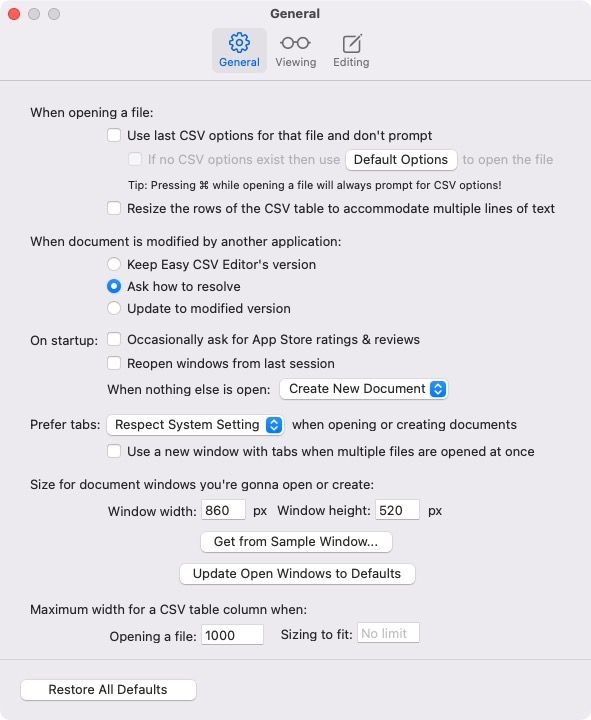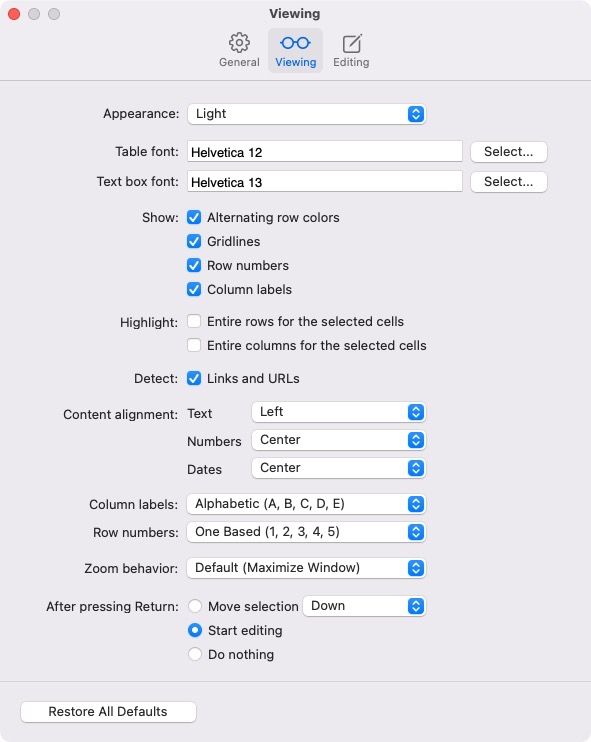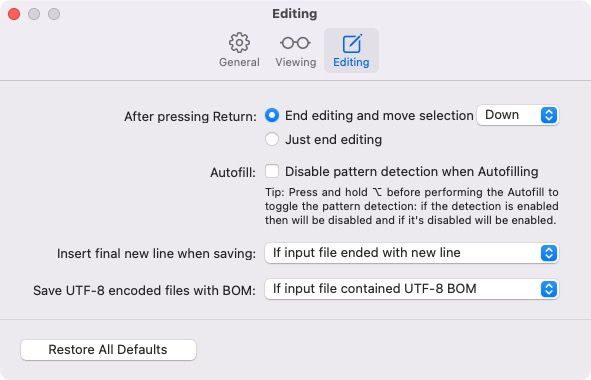 UI
Clean & simple, with main focus on data and some features accessible from menu: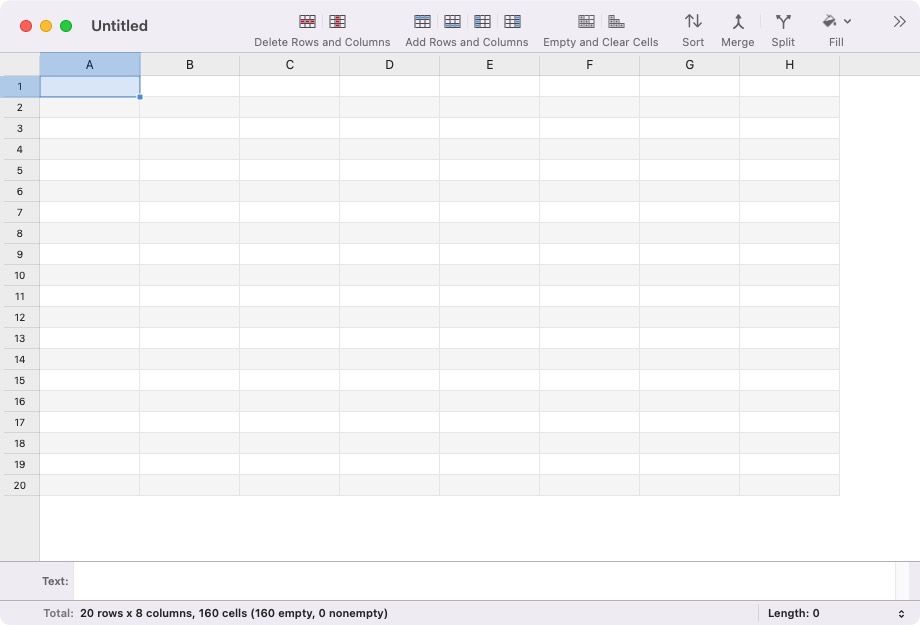 opening files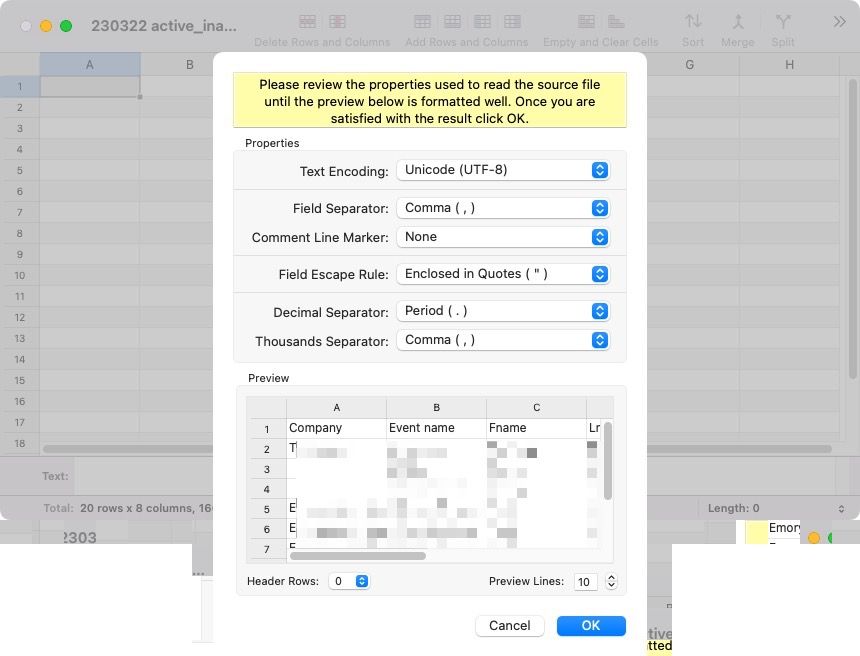 filtering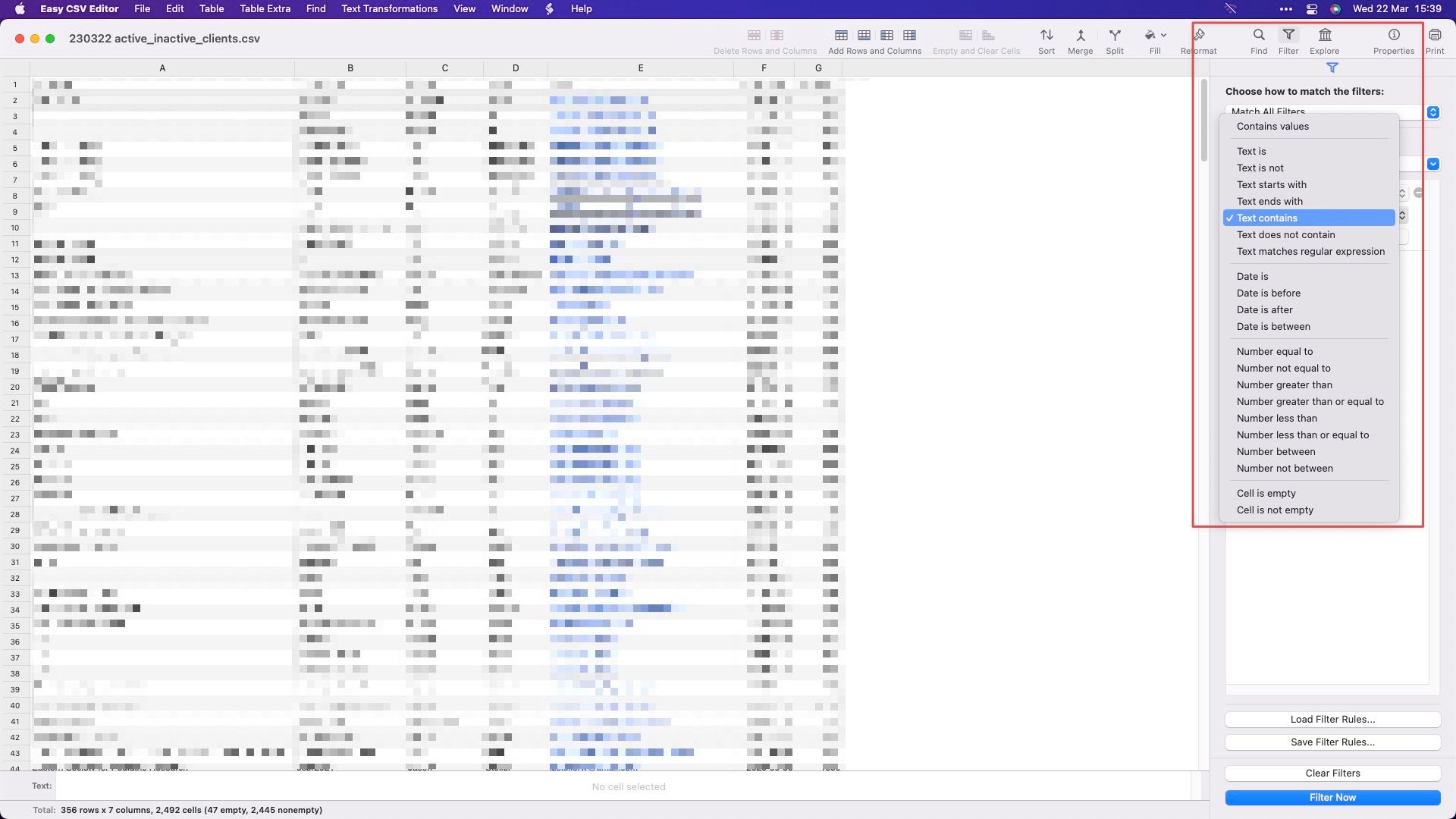 Once a table is filtered though, only the small arrows on the left side show that it's filtered.
Would be good to be more visual, eg like with Excel where row number colour changes.

Though you have this too, which is useful:

properties
Nice!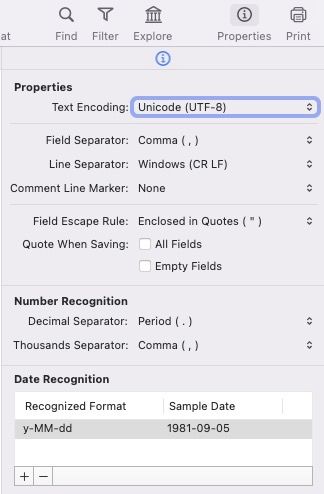 highlight rows & columns
LOVE this! Always thought this should be a native feature in Excel, which I only ever been able to have by using a macro.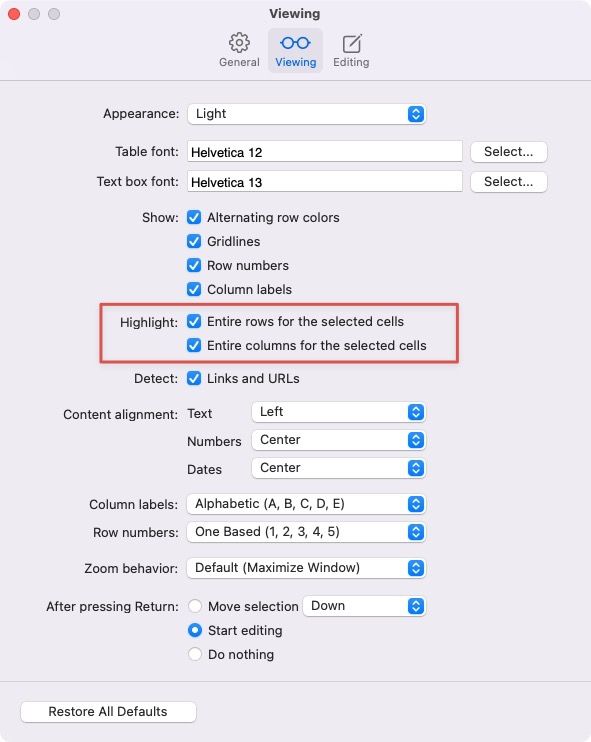 In-App Purchases
Import & Export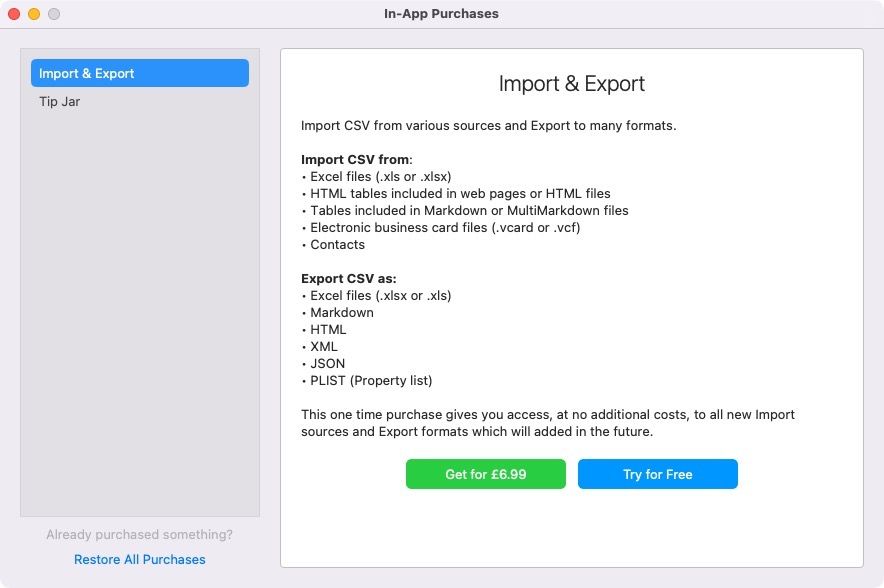 I am particularly interested by importing/exporting CSV from/to Excel (native import is limited and a pain), HTML (for scraping/data extraction) & Mardown (format of my notes, incl. for this site).
Experience
I have been using it for a few hours today and really like it.
Blows away all other solutions I have tried for CSV editing/manipulation over the years, in terms of usability and features.
Highly recommend so far.
Customer Support
Emailed Vlad, the developer behind, and got a reply quickly with detailed answer & help. Great support!
Tips
23 Mar 2023 answers from developer.
0-based column labels
This is SSOOOO good!! 😁
When you're working with CSV files in Python, it was always a pain to have to convert the column labels to numbers.
Gotta love this feature, especially on files with a lot of columns!

how to make first row the header, if it was not selected as such upon opening the file?
The menu "Table Extra -> Header Rows" allows you to set how many rows to be used as headers, after opening the file.
There's a similar menu for the "header columns", too.
"bug": when selecting all rows after filtering and deleting all rows, header gets deleted too. Header should be persistent.
One workaround that I suggest you, even if it's a "hidden feature" is to hit Cmd + A two times and then do the deletion: the first Cmd + A will select all the rows and the second will select all the "visible data rows", thus deleting what you want.
Questions & Feature Ideas
additional feature: highlight duplicates (not just search for them).

additional feature: support native opening of .xlsx files (without having to export to CSV first), understanding this would flatten the formulas to values.

additional feature: Copy as > Python list when selecting a column. This would be super useful. (copies ['x', 'y', 'z'] when selecting a column with strings or [1, 2, 3] without quotes when selecting a column with numbers).

live modifications are supported but modification pop-up can be a hindrance. When working Live on CSV files with Python would be good to have the option to Always Update without asking


would be good to have an option to filter with a dropdown menu showing the unique values only, instead of having to type them manually.


multi-line editing could be improved


Resize Column to Fit Content is great. Would be good to also have a Resize all columns to X or Resize Columns Width to Fit Header only option. When 100 columns at play, I like to reduce column width to the max, so easier to navigate.

with Import add-on activated, it would be good to have a macOS service or simply for Easy CSV Editor to be able to open Excel files using right-click > Open with > Easy CSV Editor), so that it would automatically convert the Excel file to CSV and open it in Easy CSV Editor.